EXCLUSIVE
By
Wayne Veysey
| Chief Correspondent
While Kenny Dalglish is the front man for Liverpool's revival, another Scot will be quietly exerting considerable influence behind the scenes.
Steve Clarke has got used to being a supporting act, operating as a kind of senior sous chef, laying the groundwork for the executive head chef.
Yet even the most successful managers admit they are only as good as the staff they have assembled around them, which is promising news for Liverpool given the esteem that Clarke is held within the game.
The influence of the club's first-team coach, whose arrival came only 48 hours after that of Dalglish, will have been felt at Anfield over the last 25 days, according to Charlton assistant manager Alex Dyer, who worked alongside Clarke for two years at West Ham.
"If I know him, he will be taking training," Dyer told Goal.com UK. "He likes to be at the heart of things when it comes to organising sessions. At West Ham, he would be in first thing in the morning planning out his sessions and would know what the team needed to do to improve.
"The manager and him will work together but he will control the session. He is the head coach. The manager will say what he thinks they need to do on that day and Steve will put together a session to work around that."
Clarke's methods seem to chime with the more offensive pass and move style that has been re-established at Liverpool following the conservatism of the Roy Hodgson regime.
"If you don't like his [Clarke's] training sessions, then you shouldn't be in the game," added Dyer. "Most of the players I know loved his sessions. He likes to play the ball on the ground with quick passing and play at a high tempo.
"He is very encouraging with the players but likes things done with a good attitude to the training. He is calm in what he does but the lads know they can't stand there having a chat. There is no wasting time. He is very organised. His sessions are planned to the tee."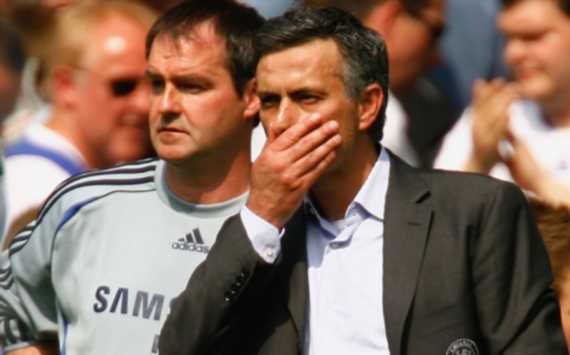 Winning team | Jose Mourinho had great chemistry with Steve Clarke at Chelsea
Clarke is no stranger to working in the background for high profile clubs and managers. After a long playing career at Chelsea, he went on to assist Ruud Gullit and Sir Bobby Robson at Newcastle United before returning to Stamford Bridge to work directly under Jose Mourinho, Avram Grant and, briefly, Luiz Felipe Scolari before accepting a role as Gianfranco Zola's deputy at West Ham.
Dalglish is the latest big name to summon Clarke's expertise to organise training drills, act as an experienced tactical sounding board and be a conduit between the manager and the players.
"Mourinho is the best manager I played for and Steve Clarke is the best assistant coach," said former Chelsea midfielder Alexey Smertin, who played for 10 clubs in Russia, France and England in his 16-year professional career. "The manager picks the team and his neck is on the block but he needs good support around him.
"Mourinho and Clarke were brilliant at getting in the heads of each player in the squad. They would know what you were feeling.
"At Chelsea, there was a great chemistry between them and they knew their roles. Mourinho was the leader and strong psychologically but Clarke was very approachable and could talk to the players at the same level. You could be honest with him. He was a funny guy as well. I don't know too many players who didn't like him."
Dyer has no doubt that the 47-year-old would have played a part in Liverpool's resurgence under Dalglish, including three consecutive wins and clean sheets going into Sunday's mouth-watering clash at the club where he established his coaching reputation.
"Of course, he would have helped Dalglish all the way," observed Dyer. "I don't know Mr Dalglish but I know Steve Clarke and I know he would have had a hand in their improvement.
"He is a good enough coach to improve players and teams. It's all about getting people to play at their maximum potential and he is able to do that.
"I have learned a lot from him in terms of organising sessions and knowing what you want from sessions. The most important thing is for players to enjoy what they are doing. When they are happy, they perform at their best. His methods work. At Chelsea, they won everything apart from the Champions League, and they only lost that on penalties."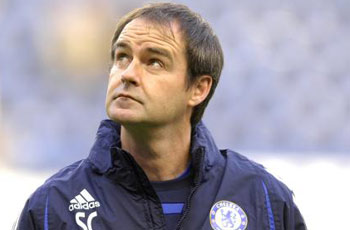 "Clarke is able to get footballers playing to their maximum potential
"
Clarke has a reputation for being dour and taciturn among the media but those who know him well say he is a jovial presence in the dressing room.
"He has a good sense of humour and is a good guy," said Dyer. "Of course, he is a buffer between the manager and the players. That's what coaches do. He is very approachable and good at showing players both sides of the argument."
Much of Clarke's confidence came from his stint with Mourinho. Clarke was a youth-team coach at Chelsea before the Portuguese promoted him as soon as they met. When Mourinho left and Chelsea threatened to implode under Avram Grant, it was Clarke who stayed and defused the tension. He felt marginalised under Scolari.
The Scot is on record as saying he has ambitions to be a Premier League manager, and his greatest fan is the world's most celebrated coach. "This is what I think about Steve Clarke: if he had the chance to manage a club, even a big club like Chelsea, he would be ready for that. He is that good," Mourinho has said.
Yet Clarke is not a Phil Neal-style nodding accomplice to the main man. "He has his own ideas and he is not afraid of saying them," said Smertin. "He didn't just agree with Mourinho at Chelsea. He had his own thoughts on tactics and players and Mourinho would listen and go with him. He is a very smart guy and knows football."
With two canny Scots at the helm, Liverpool might consider themselves to be in safe hands.