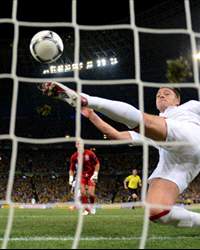 The FA has confirmed that they will be involved in a decision over the use of goal-line technology on Thursday.
The issue is due to be discussed at the International Football Association Board (IFAB) meeting in Zurich, along with a number of other matters affecting the game including the use of additional assistant referees and allowing women players to wear headscarves.
The FA has long been at the forefront of a campaign to introduce goal-line technology into the highest levels of the sport, and chairman David Bernstein and general secretary Alex Horne will take part in the discussion at the IFAB meeting later this week.
A statement on the FA's official website read: "The FA will be involved when a decision over the use of Goal-line Technology (GLT) is taken at the International Football Association Board special meeting in Zurich on Thursday.
"Chairman David Bernstein and General Secretary Alex Horne will head the travelling delegation to hear the results of the latest GLT tests. FA Referees' Committee chairman David Elleray and Neale Barry, who sits on the IFAB technical sub-committee and is The FA's Head of Senior Referee Development, will also take part at FIFA HQ.
"The FA has been a leading proponent of Goal-line Technology in recent years after a number of high-profile incidents.
"Several other matters will also be up for discussion by the global game's law-making body – which is made up of FIFA and the four home nations – in the Swiss capital. These include the subject of additional assistant referees, as seen again at UEFA Euro 2012, and the wearing of headscarves by female players."
A FIFA spokesperson was also quoted by the FA as saying: "We would like to place on record our sincere thanks to The Football Association for their willingness to support the live match tests, a critical part of Test Phase 2 for Goal-line technology."
The discussion will include an analysis of test results from two matches. The Hawk-Eye and GoalRef systems were used in England's 1-0 friendly win over Belgium at Wembley as well as in a further test at St Mary's Stadium in May, with data recorded from both fixtures.
The issue of extra technology in and around the goal-line has long been a contentious issue in the game, with a number of recent high-profile incidents further highlighting the issue.
After Frank Lampard was denied a goal against Germany during the 2010 World Cup, there was yet more controversy during England's Euro 2012 campaign, when Ukraine were denied a clear equalising goal after
John Terry hooked the ball clear long after it had crossed Joe Hart's goal-line.
FIFA president Sepp Blatter, who had long been reluctant to sanction the use of the technology in the past, admitted after the Group D match that such meaures were now "a necessity."