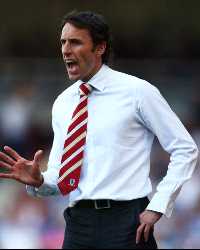 Gareth Southgate has left his position as the Football Association's head of elite development.
The former England international has also told the FA that he no longer wishes to be considered for the role of technical director.
Southgate took up the job in January 2011 and has worked to redevelop the structure of youth football in the country in that time, with his recommendations recently being approved by the FA.
England continue to strive to push through the construction of St. George's Park, a project in which Southgate played a key role, with the national football centre due to be opened in the coming weeks.
"I'd like to place on record just how much I've enjoyed working at the FA over the past 18 months," Southgate said in a statement on the FA's official website.
"It really has been an honour and a pleasure. Hopefully, I have been able to play some part in delivering important changes to the way children play at the youngest levels. It has also been a tremendous experience to work on the delivery of St. George's Park.
"The FA is heading in the right direction in terms of developing more, better coaches and players at all levels of the game under the leadership of David Bernstein, Alex Horne and Sir Trevor Brooking.
"I would like to thank them for their support throughout my time with the organisation. I've advised the FA that I will be pleased to help with specific projects moving forward."
FA General Secretary Alex Horne spoke of his gratitute for the work the 41-year-old had done in the role, and wished him all the best for the future.
"Gareth has made an outstanding contribution in supporting Sir Trevor Brooking and myself across various aspects of our football development work over the last 18 months," Horne said.
"We're disappointed, but understand his decision and would like to thank Gareth for his efforts and wish him well for the future.
"We continue to recruit for key technical positions within the FA at what is a very important and exciting time for the organisation, with the imminent opening of our new training centre at St. George's Park."
The FA also confirmed that Southgate will continue his television work with
ITV
as part of their match coverage team.