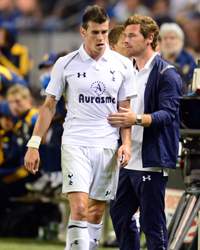 Tottenham
winger Gareth Bale has branded
Liverpool
midfielder Charlie Adam a "coward" after limping off injured following a challenge from the Scot during Saturday's friendly between the two teams in Baltimore.
Bale was sidelined for three months during 2011 after a poor tackle from Adam left him with ankle ligament damage and the Spurs man described the latest challenge as "over the top" as he left the stadium on crutches.
"From what I've seen of him on pitch, I think he's a bit of a coward," Bale told reporters.
"I was surprised to see a challenge like that in a friendly. We're all over here to build our fitness and get a good workout and what he did as over the top, to be honest.
"But some people are like that and it's just wrong. My ankle is sore - very, very sore. We'll have to wait and see how it goes. I'll probably have to have a scan.