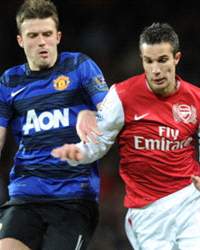 Michael Carrick insists that it is business for as usual for
Manchester United
as the 2011-12 Premier League runners-up look to avenge losing the title on the last day of the season to
Manchester City
.
The 31-year-old midfielder has acknowledged the pain of being pipped to the post in the dying moments of the season by 'noisy neighbours' City on goal difference alone, but insists that United - with the addition of striker
Robin van Persie
- will come back stronger.
"What happened takes some getting over. It's not easy. It was a huge blow, the way it happened," Carrick told reporters.
"Nobody could have predicted that and we never thought it was going to happen like that.
"But we have to get over it now. We've had setbacks in the past and we have to move on. That's the nature of the club and the manager. He'll be driving us forward to achieve something this season."
The deep-lying playmaker stated that Sir Alex Ferguson's outlook hasn't changed, and that the season ahead is all that counts.
"It was just 'go again'. Whether we won the league last season or not it's the same, the same message really," he said.
"He says 'you have to start again, start afresh. Last season doesn't count for anything now, everything is new' and we'll look forward to it."