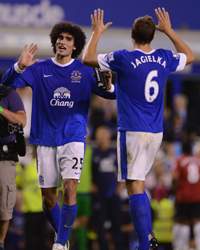 Everton
goalkeeper Tim Howard has hailed the performance of Marouane Fellaini against
Manchester United
as one of the most dominant displays he has seen and likened the Belgian to former Toffee, Duncan Ferguson.
The 24-year-old's 56th minute header gave David Moyes' side the perfect start to the season as they beat the Red Devils 1-0 at Goodison Park.
And the American keeper feels United could not contain the 6ft 4in midfielder throughout the contest, who he believes played a pivotal role in their win.
He told reporters: "It was the best here against them since Duncan. It was dominant — classy in a lot of ways but some of it was determination and real grit too.
"Duncan had the same make-up in terms of being able to dominate someone for 90 minutes. I was happy to be on the right end of it this time.
"United just couldn't cope with him.
"There's a certain point at which you say it's impossible to defend against him because he's so tall, and takes up such good positions you either have to come through the back of him and concede a foul, or stop him controlling it with his chest, which is hard.
"He was so fantastic for us on Monday and it allowed us to get up the park and play it up to him."
Howard feels Everton's performance against United in April where they drew 4-4 at Old Trafford gave them belief they could beat Sir Alex Ferguson's side.
He added: "The way we played in attack there did give us confidence — plus the fact it was the first game of the season and there was so much excitement."