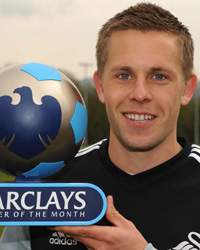 Iceland manager Lars Lagerback believes that Liverpool target Gylfi Sigurdsson could develop into a world class player.
The midfielder spent a successful spell on loan at Swansea last season after falling out with
Holger Stanislawski, the former coach of Hoffenheim, his parent club
.
But, despite a fee and personal terms having been agreed, a permanent move to south Wales has been thrown into doubt after the club lost manager Brendan Rodgers to Liverpool.
The Reds are now reportedly set to hijack the transfer, but Lagerback believes that the 22-year-old has the ability to shine wherever he plays.
He told the Sunday Mirror: "Gylfi had a ­fantastic season with Swansea and he has great quality. I was really impressed with what he did with Swansea and the way they played really suited him.
"He's a fantastic player at linking play around him and together with the players in his team.
THE GOAL LINE | EPISODE 11
Layla Anna-Lee presents our latest show, as Greg Stobart previews Sunday's Group B matches

"If he has some good players around him, then I think he's an absolutely top player - but he does need to be surrounded by ­quality.
"If that happens, then I think he could be a really world class ­player in the right environment."
Having been in charge of the Swedish national team for 9 years, Lagerback knows a great deal about spotting and handling talented attackers such as Zlatan Ibrahimovic and Henrik Larsson.
And the 63-year-old says Sigurdsson possesses different qualities to those players but insists the Anfield-bound man is more than just a goalscoring midfielder.
"We have found a role for him in the Iceland team where he can be involved as much as possible and really influence the attacking part of our game," he added.
"He's not really like either of them [Ibrahimovic or Larsson] but there are elements of his game that are like Zlatan – he's not a goalscorer like Henrik was.
"He has fantastic feet and can shoot from anywhere but he's more of a playmaker or an offensive midfielder with good shooting ability."