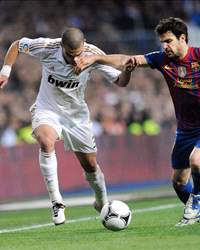 The El Clasico fixtures have always been the ones circled on every Spanish football fan's calendar. The competitiveness, controversy, quality and drama are rarely matched by any other game in Europe.
Portugal
vs
Spain
could well be considered the international version of the El Clasico.
Geographically, the two countries are positioned in close proximity, suggesting a derby-like quality and the match is indeed referred to as the 'Iberian derby'. The contrasting styles of the teams in both contests bolsters the notion that this semi-final will be like an El Clasico. Spain have always been compared with Barcelona for their possession based football as well as the number of
Barcelona
players within their ranks. Portugal on the other hand have come to be known as a counter-attacking side, a strategy frequently used by
Real Madrid
against the Catalans in recent times. The fact that Ronaldo is a vital attacking component to both sides draws further comparisions between the Portuguese and Los Blancos.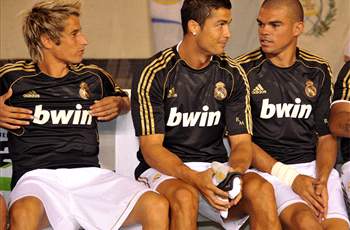 In Ronaldo and Nani, Portugal have plenty of pace and trickery on either flank to set them up nicely for the counter-attack. Meireles and Veloso will work tirelessly to stifle the Spanish midfield while Moutinho will be responsible for linking midfield and attack. At the back they have a similar look to Madrid's defense. The central defensive partnership of Pepe and Alves resembles the strength of the collaboration Pepe enjoys with Ramos at club level. They have the Madrid-tied Coentrao at left back and the less dynamic Pereira at right back who isn't too disimilar to Arbeloa. The problem Portugal face is the inexplicable absence of a quality center forward in the squad. While Madrid have two in the form of Higuain and Benzema, Portugal have none and are also having to cope with the absence of Helder Postiga. Hugo Almeida replaced the injured Postiga during the last game and added an aerial threat that did not exist prior to his arrival but he did not offer much else and does not possess the pace required to flourish under a counter-attacking system. Barcelona and Spain both play a high line and Benzema was the ideal candidate to take advantage of that against the Catalan giants. His pace allowed him to run in behind the defense or stretch it by drifting wide and creating space for a midfielder to run into. Almeida will not have the pace to run in behind the back line and even if he times his run well, there is a good chance that either Pique or Ramos will catch up to him. His lack of pace and agility will render him ineffective if he does find himself in a wide position and so his main objectives will be to hold up the ball and attack crosses when they come by.