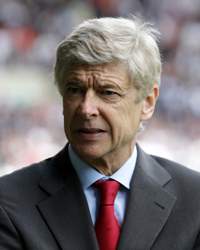 They say 'time is a great healer' but time has been detrimental to Arsene Wenger's existence. At an age of 46, Wenger arrived in London with little reputation but an open mind. Sixteen years later, after changing the landscape of English football in the early noughties, he has gradually grown into a close-minded manager with a burdening reputation and an unerring belief in a formula that is long beyond its expiry date.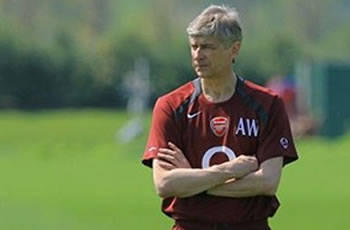 A young Wenger brought the best out of the players
From a young, evolving master of the beautiful game, who immediately gained the nickname Le Professeur, Wenger seems to have stagnated as a manager and a person. He recently suggested that others, presumably the likes of Manchester City and Barcelona, have been destroying his work. A couple of days prior to that, he was quoted saying that money isn't his motivation and that he could have earned ten times more had he left Arsenal.
But Wenger fails to understand that his players aren't going to share the same beliefs. In his obsession of proving that there exists a way to win without pumping in millions of pounds, he has lost his own way.
Wenger's philosophy brought success at
Arsenal
in a time period that was conducive for his exploits (buying relatively unknown foreign gems at cheap prices). But the world of football has changed since a bored Russian tycoon decided that a football club will be his next fixation. Wenger's success train was stopped dead in its tracks. Arsenal's last trophy, the FA Cup, came seven years ago, during a season that signaled the start of Chelsea's rise and the Invincibles' demise.
There is no doubt that Wenger is correct in pointing out that other clubs have tempted his players away by offering higher paying contracts, but it is largely due to a rigid manager's reluctance to evolve with changing times that has caused the downfall of his club. In today's world, a football player wants instant success and wants to be paid what he feels he is worth. Neither of the two is something Arsenal readily offer due to the manager's philosophy of gradually building a young team and the club's stringent wage structure.
Arsene Wenger's youth philosophy was admired a few years ago. Wenger's kids, as they came to be known, dazzled onlookers with some breathtaking football. 'Unbelievable potential', 'the best is yet to come' and many such phrases were thrown around in anticipation of the time when Arsenal's kids would mature into world-beaters. They did not, which converted the best of them into want-away stars.
Arsenal's youth artillery was built based on the fact that the Gunners were ready to offer talented young players significantly larger wages and longer contracts than other clubs. This is because their internal wage cap did not allow exorbitant wages for any player and thus, left room for paying younger players handsomely. So, Arsenal essentially did what the likes of Manchester City and Chelsea do – poach a player from other clubs by offering greater incentives, except that they did it at a very early age.
Wenger also took advantage of the rule in Spain which states that professional contracts can only be handed to players who are 18 years or above. Former Arsenal skipper Cesc Fabregas was poached from Barcelona in this manner at the age of 16 and yet, when the Catalan giants returned the favour several years later, it was judged to be the most terrible thing to do.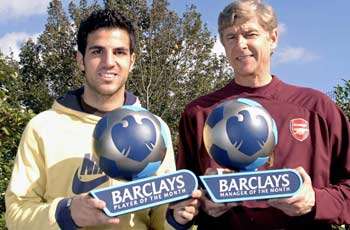 Wenger had captured Fabregas at an age of 16
Signing players at a young age on healthy wages means that to offer them new contracts, the salaries need to be increased even further. For all of their savings and wage caps, Arsenal still had the fifth highest wage bill (£124m – 48% of the turnover) in the Premier League during 2010/11, primarily because of the number of handsomely paid underperforming players on their books. A number of these players – such as the likes of Nicklas Bendtner, Carlos Vela, Marouane Chamakh and Denilson – are surplus to requirements at Arsenal and aren't being sold because of the length of their contracts and the inability of suitors to match their expensive transfer fee.
On the one hand, funds are diverted towards these players on the Gunners' payroll; on the other, Robin van Persie may be refused an increase of around £50k a week (which is what a surplus player earns at Arsenal) to keep him at Arsenal. Rather than blaming his lack of success on other clubs, shouldn't Wenger question the logic and relevance of the club's wage structure in today's world?
Money isn't the only aspect holding the club back. After leaving Arsenal, Cesc Fabregas pointed out that he and Van Persie were the only players in the squad who had ever won a trophy and the lack of a winning mentality had become a major source of frustration for him.
Arsenal's reliance on its youth and the inability to blend in experienced leaders with them has cost the club over the years. A better pay isn't necessarily the only reason players wanted to leave the club; it was the incentive of winning. Winning at Arsenal would've been sweeter for many of the departed players, but they had lost faith in Wenger's philosophy.
Giving players a taste of senior football so early on in their career means that by the time they reach closer to their peak years, they would grow stale at the club, especially when there is a lack of trophies. Irrespective of their young ages, Fabregas and Clichy had been playing in the first team for eight years at Arsenal and needed a change. And so did Samir Nasri, who after three years saw no progress or success in sight especially after the departures of other prominent players.
Wenger's teams are also renowned to be soft and have often been targeted physically – something which hasn't changed over nearly a decade now. His teams capitulate when a show of mental strength is of the utmost importance. His teams disintegrate where a Patrick Vieira, a Gilberto or a Tony Adams, would put his foot down and lead by example. Wenger's teams have characteristically also failed to close out matches through the years, refusing to modify Arsenal's way of playing.
The manager's motivational skills are below par as well, which hasn't helped in extracting the best out of his developing players. During the unsuccessful period, he has seen Sol Campbell suffer a breakdown, Andrey Arshavin suffer a dramatic loss in form, Tomas Rosicky fail to flourish and the likes of Reyes, Diarra, Flamini and Hleb (to name only a few) arrive and depart without making the desired long-term impact.
Contrast all of the above shortcomings with Sir Alex Ferguson's management at Manchester United. Sir Alex has adapted brilliantly to changing times. He has always had the right balance between youth and experience in his squad, which ensures both present and future success. He is a master of being ruthless when it comes to offloading youngsters (such as Eagles, Bardsley, Gibson, Pugh, Rossi) who aren't good enough for the club to invest money and time in.
He isn't shy of shelling out more quid (2010/11 wage bill: £153m – 46% of the turnover) to retain his players either, as was the case with Wayne Rooney last season, and he does it without hampering the image of the club. His motivational skills are exceptional and his teams, unlike Wenger's, have a habit of grinding out ugly wins. It is no coincidence or luck that United were the team to halt Chelsea's march a few years back and are still the only team to match the billionaires of City.
Wenger's off-field activities also have a decent correlation with his on-field results in terms of lacking a cutting edge. Arsenal's transfer windows over the years have been frustratingly quiet when reinforcements were desperately required. Wenger has always been reluctant to buy a seasoned centre-back or a seasoned destroyer in midfield. Last summer, although the exit of Fabregas and Nasri were seemingly inevitable for a long time, Wenger's lack of planning meant that he hurriedly bought five players in the last forty-eight hours of the transfer window.
A meteoric rise in the Blues' financial power has left Wenger clueless