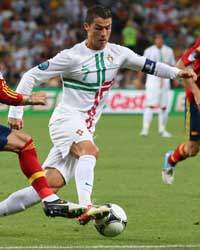 ANALYSIS
By KS Leong
The 2011-12 campaign will be fondly remembered by Spain's Real Madrid contingent as a momentous season. After playing their part to dethrone Barcelona in La Liga, they helped their national team to a historic triumph at the European Championship.
Even their non-Spanish stars such as Cristiano Ronaldo, Pepe and Mesut Ozil have reason to be satisified with their summer as none had a catastrophically disappointing Euro 2012 after guiding their respective nations comfortably out of the group stage.
The Spanish giants sent 11 players to the Euros - the second highest of any club behind only Bayern Munich's 12 - with 10 of them making it all the way to the semi-finals, and half of that number came home with the winner's medal.
Los Blancos
provided five of Spain's 23-man squad and all but one - Raul Albiol - were regular starters as well as key players in their title-winning run. Iker Casillas, Alvaro Arbeloa and Sergio Ramos played every single minute in Poland and Ukraine, including an additional 30 in extra time against Portugal in the last four, while Xabi Alonso played 25 minutes less than the trio after being substituted against Republic of Ireland in the group phase.
While Xavi starred in the final, Andres Iniesta walked away with the Euro 2012 Player of the Tournament award, Fernando Torres with the Golden Boot and Jordi Alba as many observer's pick for revelation of the championship, the focus post-tournament has quickly shifted to their captain marvel Casillas.
The Madrid goalkeeper extended his extraordinary clean-sheet record for Spain in knockout matches in major competitions, while becoming the first footballer to win 100 international matches, and has now hoisted three consecutive trophies for his country as skipper. This has led to sections of the press, pundits and legends of the game calling for 'San Iker' to be given the 2012 Fifa Ballon d'Or ahead of pre-Euro 2012 favourites Cristiano Ronaldo and Lionel Messi. A stellar first half to the 2012-13 La Liga campaign will strengthen his case further.
REAL MADRID'S EURO 2012 STARS


RAUL ALBIOL



MINUTES PLAYED
AVERAGE RATING

0
N/A

XABI ALONSO



MINUTES PLAYED
AVERAGE RATING

545



ALVARO ARBELOA



MINUTES PLAYED
AVERAGE RATING

570

KARIM BENZEMA

MINUTES PLAYED
AVERAGE RATING

346


IKER CASILLAS

MINUTES PLAYED
AVERAGE RATING
570

FABIO COENTRAO

MINUTES PLAYED
AVERAGE RATING

480

SAMI KHEDIRA

MINUTES PLAYED
AVERAGE RATING

450

MESUT OZIL

MINUTES PLAYED
AVERAGE RATING
438

PEPE

MINUTES PLAYED
AVERAGE RATING

480

SERGIO RAMOS

MINUTES PLAYED
AVERAGE RATING
570

CRISTIANO RONALDO

MINUTES PLAYED
AVERAGE RATING

480


Casillas' exploits with Spain would not be possible without the help of club-mates Arbeloa and Sergio Ramos. The former was overshadowed by Alba on the opposite flank, but the ex-Liverpool man has never been renowned for his marauding runs. Often solid but rarely spectacular, that's the main quality he brings to club and country, providing the necessary balance to two attacking-minded teams. Club coach Jose Mourinho will be encouraged by his disciplined defensive displays.