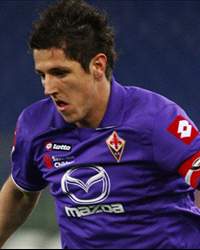 Fiorentina president Mario Cognini has slammed Napoli owner Aurelio De Laurentiis, after the Partenopei chief criticised Viola midfielder Stevan Jovetic over his lack of fitness.
The Montenegro international had been a transfer target for the 2012 Coppa Italia winners, but De Laurentiis quashed those rumours, claiming he lacks proper physical conditioning.
"Jovetic will not [be coming to Napoli]," he asserted to La Nazionale. "I have always liked him as a player, but he is often injured."
Cognini meanwhile, responded in a typically brash manner: "It seems strange that a chairman as professional as De Laurentiis should not be informed on the health of Jovetic," he retorted.
"The next time I see him, I had better remind him of the Aesop fable 'The Fox and the Grape' [where the fox represents a person with irrational ideas]."
The 22-year-old playmaker was linked with a move to Naples after Ezequiel Lavezzi's long-awaited move to Paris Saint-Germain was confirmed on Monday.