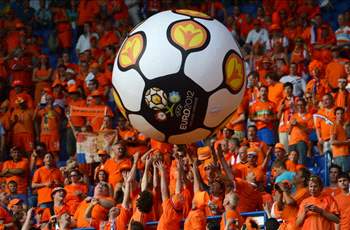 A mini Halloween was being celebrated throughout the arena when the Netherlands' team stepped on the fields. Exuberantly liberal Dutch wore everything unique! There was Flintstone with his Orange haired Wilma, an Angel with orange wings, crazy custom made hats in orange and much more! The stand out was the replica of the huge UEFA football tossed around in the stadium among the fans.
Denmark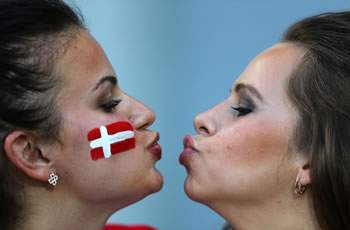 The Danish Vikings held their heads and their national flags high up to demonstrate their support. Red and white striped goggles, hair , faces , cute bunny headbands and attires marked the arrival of Danish fans.
Ireland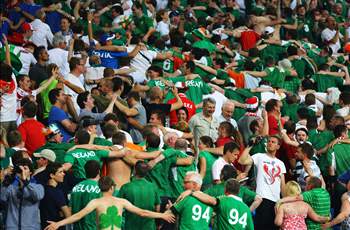 Leprechauns of Ireland had left their shoes for a later date and spent their secretly stashed away gold coins on Euro 2012. They sang and performed the Irish dance showing off their classic beards and celebrated hats. Alas! If only they could have granted their three wishes to the Ireland team!
Croatia
After some obscene stunts by the fans-all in the name of the game-Croatians knew their cheer! Igniting flares before the match starts and the discovery of Croatian beauties, Euro 2012 saw Drama amidst the war!!
Ukraine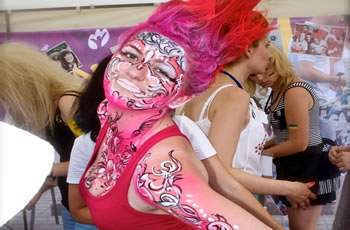 On a normal day, a combination of Yellow and Blue would be out of the question but the other host city knew their liveliness shouldn't be outlived! They subtly wore their flag colours on their faces, hair and garbs tagging alongwith Slavko -the mascot for the event!
Sweden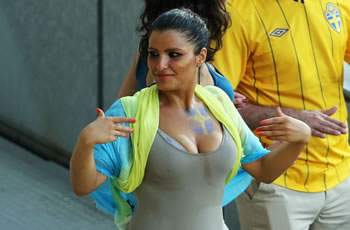 This mighty land – resident to Thor – with their army clashing away in Euro 2012 witnessed the commoners pompously presenting their national flag- SVERGIE. Full body suits, blue with a yellow cross, were the common favorites. Painted bodies of men and princess tiaras in yellow-blue colours adorned by women was a common sight.