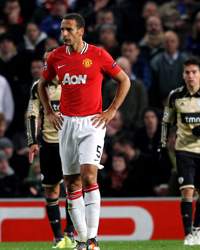 Manchester United
manager Sir Alex Ferguson has revealed that he does not expect defender Rio Ferdinand to play for the
England
national team again.
Despite having won 81 caps at international level, the centre-back was left out of his country's squad for Euro 2012 and snubbed again when Gary Cahill dropped out due to injury.
Manager Roy Hodgson insisted that he had selected his squad based on footballing reasons but Ferdinand aired his frustrations on his Twitter account, with speculation that he had been omitted due to the dispute between John Terry and Ferdinand's brother, Anton, proving key.
"I don't think [Ferdinand will play for England again]. I can't see it. It's not on his agenda either," Ferguson told reporters.
"He's 33 now and wants to be fit for us. As a centre-back if you look after yourself you should play until you're 37.
"Rio had a terrific season for us last season. He probably played his best football for us for a long time because he was playing quite regularly. The last two years he'd been playing for a week, out three weeks, then coming back.
"Him and Jonny Evans hit a bit of form together that carried from December right through to February and March."
Meanwhile, the 70-year-old believes that former Liverpool manager Kenny Dalglish's continued support of striker Luis Suarez during the Patrice Evra racism row may have played a part in his dismissal at the end of last season.
"I wasn't surprised at Kenny leaving," he explained. "I think John Henry [the Liverpool owner] has obviously looked at the Suarez incident and felt it wasn't handled in the right way.
"I think that must have been part of it. It certainly wasn't a nice thing to happen, you know."
Ferguson went on to criticise Suarez after the Uruguayan re-opened fire at United regarding the incident during a televised interview in his home country.
"I've seen that Suarez has gone back and talked about it," he added. "If Suarez keeps on making headlines out of it then it's not going to go away."