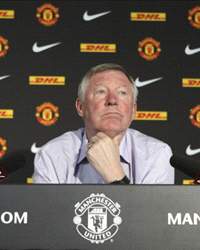 COMMENT
By James Goldman
As the manager of the world's most famous football club it's not unreasonable to assume you are capable of winning any fight you pick, but by declaring so publicly that
Manchester United
had joined the race to sign Robin van Persie, Sir Alex Ferguson has risked further undermining his side's reputation in the transfer market.
A player of Van Persie's calibre, one potentially available at a knockdown price, a Premier League thoroughbred whose goalscoring pedigree is unquestionable, would of course be of interest to United, regardless of their glaring need to strengthen in other areas.
There was, however, little to be gained by going on the record in such a clumsy fashion, one that was so out of keeping with Sir Alex's usually guarded approach to discussing his transfer dealings with the media.
Playing a straight bat to any Van Persie related line of questioning, rather than the wild swing of the sledgehammer the Scot opted for, would have been far more advisable.
Already this summer United have been blown out of the water by Chelsea, whose financial clout eventually proved decisive in the unseemly scramble for Eden Hazard's services, while the recently dethroned Premier League champions have been alarmed by the £110,000-a-week salary demands of Brazilian teenager Lucas Moura, one of their primary targets -
though they are in the process of preparing a new £32 million bid for the Sao Paulo player.
Money, it appears, is increasingly talking more effectively than Sir Alex when it comes to the top end of the Premier League transfer market and it is likely to be the case again, despite his protestations to the contrary, with regards to Van Persie's future.
The 29-year-old, who has taken a depressingly despicable approach to forcing his way out of Arsenal by effectively going on strike before the club's pre-season tour of Asia, claimed in the poisonous statement he released earlier this month that financial gain was far from the principal reason why he wants out.
With Manchester City leading the chase for Van Persie, any remote hope of Sir Alex luring last season's Premier League top goalscorer to Old Trafford surely depends on the veracity of that claim. Van Persie would be the rarest of breeds were he to look the £198,000-a-week gift horse reported to be on offer at Eastlands in the mouth, while Roberto Mancini would think nothing of offering over the odds for a striker he, in truth, does not need.