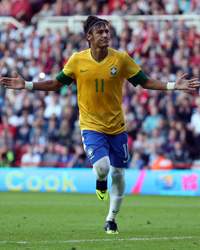 For excitement, entertainment and goals during the Olympic football tournament forget
Team GB
and look no further than
Brazil
and their exciting new generation of stars.
It may be the first time Team GB have entered a football team in the Olympic Games since 1960 but for the likes of Neymar, Oscar and Lucas Moura they are following in a long line of Brazilians representing their country at the summer Olympiad.
The likes of Ronaldinho, Romario and Ronaldo have all represented Brazil at the games and the new crop of youngsters look set to make a similar kind of impact to those made by their predecessors.
It is hardly a surprise that many of the current squad have attracted attention from the top European clubs, and this summer gives them the chance to shine in the spotlight a major tournament provides and possibly inflate their prices further.
The warm-up match against Team GB was their first chance to show everyone what they have got and they did not disappoint as they dominated possession, created numerous chances and showed GB how much work they have got to do if they are to be successful in the upcoming competition.
All eyes will naturally fall on Santos' Neymar but it was the much fancied Oscar who stood out as he conducted the play from the middle of the Riverside pitch against GB. He strolled through the game showing everyone what he is all about, barely breaking a sweat in a comfortable warm-up for the youngster.
The 20-year-old is not as flamboyant as team mate Neymar, he does not naturally stand out, but when you watch him closely you see a midfielder who is comfortable in possession, can pass the ball accurately with both feet, loves going forward but is far from ignorant of his defensive duties.
His link-up play with Romulo in the centre of the pitch was fantastic to watch, it was like they had played together for years as they made Tom Cleverley and Joe Allen chase all over the pitch just to get a touch of the ball.
So what of Neymar? The new wonderkid of Brazilian football, the new Pele, the Brazilian Messi. There's no doubt that the forward is a talented individual and is a player that will light up the upcoming tournament, a move to Europe is surely not far away with Chelsea, Real Madrid and Barcelona all ready to make him an offer he cannot refuse.
And he gave another mesmerising performance against GB as he gave James Tomkins, Micah Richards and Steven Caulker no rest, he is constantly on the move, always looking to find space or create room for a team-mate and in front of goal is exceptionally accurate, and don't forget the mesmerising bag of tricks he has at his disposal, too.