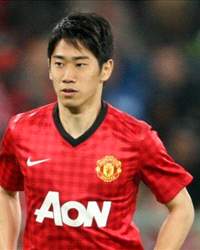 Manchester United
defender
Paul Scholes
has admitted
Manchester City
were the better team last campaign, but he believes
Shinji Kagawa
could make all the difference next season.
Sir Alex Ferguson's men were denied another Premier League title on the last day of last season as Roberto Mancini made a dramatic injury-time comeback to lift the trophy.
Scholes is confident Manchester United's newest signing Kagawa could tip the tables back in the Red Devils' favour this season.
Signed from German Bundesliga champions Borussia Dortmund a few weeks back, Kagawa
has already impressed in pre-season and looks like he could improve United's fortunes in the 2012-13 Premier League campaign.
"He [Kagawa] looks brilliant. I've only been in training with him for a couple of weeks but he's very good technically and you can see the talent he's got already." Scholes told the
Sunday People
.
"He's had a couple of great years at Dortmund and I think he has been player of the year in Germany - that tells you he's a top player.
"He will bring goals to the team, whether he's scoring them or making them. He's got great movement and is very clever in the runs he makes.
"It's difficult to say which foot is his best. He's equal with right and left. He's a good lad. He doesn't speak much English yet, but I am sure he will be very popular here."
Two months on from Manchester City's last-minute title win, Scholes has admitted the Sky Blues were the better team last season and ultimately, they deserved to win the league.