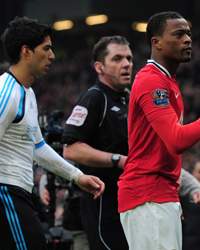 EPL, Patrice Evra; Luis Suarez, Manchester United v Liverpool
COMMENT
By David Lynch
Brendan Rodgers this week added his name to the long list of people who have called for Luis Suarez to finally "move on" from his ban for racially abusing Patrice Evra.
The recently appointed Liverpool boss insisted that it was time for his star forward to concentrate solely on his football ahead of the new Premier League season, telling reporters: "What's happened has happened and let's let it go now, however hard it is. We want to be winning games and doing our best for the football club."
But this is a saga which continues to hit headlines 10 months on from the event, seemingly proving that the FA's eight-match sanction and £40,000 fine did not draw the necessary line under the matter as was intended.
The Uruguayan was the target of widespread booing during his country's campaign at the Olympic football tournament, something of a stain on an occasion which has evinced such positivity elsewhere. That the toxic nature of football should be brought into such sharp contrast to the Olympic spirit was embarrassing for the game itself.
The result of the guilty verdict back in December 2011 has been clear at football grounds up and down the country since. Large crowds of people are not well-known for their ability to express complex emotion; therefore, when it comes to Suarez, booing is now the de facto reaction to his presence on the football pitch.
But, if Rodgers has any intention of truly moving on, he may well wish to start by requesting that the Uruguayan FA withdraw their complaint to Fifa over this booing. Such action threatens to further draw out the already-painful process and, like so much else in this affair, is not intended to further the cause of genuinely fighting racism in football.
Of course Rodgers has a vested interest in seeing such issues swept quickly under the carpet in this manner. Whilst the Northern Irishman's predecessor, Kenny Dalglish, was doubtless sacked for his failure to secure Champions League football, the impact that the events of October 15 2011 had on his position cannot be underestimated.
That the Scot and director of football Damien Comolli acted so recklessly as the face of Liverpool's stance on the incident in its immediate aftermath was a serious public relations blunder. In fact, had the Frenchman not so readily admitted that Suarez had said anything at all then the case would likely not have even been brought by the FA.
Regardless, the debate on the fairness of such judicial practices is not one which Liverpool should wish to front.
RODGERS WRITES TO REDS FANS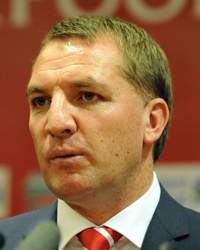 The new Liverpool boss thanks supporters for traveling to watch them beat FC Gomel in the Europa League, his first game in charge of the club
Rodgers' sole focus now is getting the best from a player who last season showed the Premier League his endless talent, but in frustrating fits and starts. His ability to create chances for himself and then waste them with remarkable consistency made him totemic of the Reds' problems last term and both must be solved by the 39-year-old.
Can the former Swansea manager now effectively harness the boos from the crowd in order to push his South American spark on to greater heights? When Cristiano Ronaldo returned from World Cup 2006 as the perpetrator of the admittedly less serious crime of helping to get Wayne Rooney sent off following his Manchester United team-mate's stamp during the England-Portugal clash, he went on to have his best-ever season in England.
Whether Suarez is made of similar stuff is yet to be seen, and should be a concern for Liverpool fans ahead of a year which could go either one of two ways.
It certainly feels as though the Salto-born striker will either earn the begrudging respect of supporters up and down the country through an inarguable level of performance, or simply find solace elsewhere.
With the likes of Xabi Alonso, Javier Mascherano and Fernando Torres leaving Liverpool in recent years in order to fulfil their ambitions, the Uruguayan barely needs another excuse to head for the exit during what is a period of rebuilding.
Follow David Lynch on