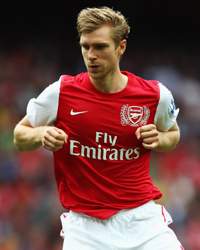 Arsenal defender Per Mertesacker believes the club are a lot stronger this year than they were at the start of the last season.
The Gunners lost skipper Cesc Fabregas and influential midfielder Samir Nasri last August which disrupted their preparations for their campaign.
However, after signing Santi Cazorla, Olivier Giroud, Lukas Podolski and positive on retaining the services of Robin van Persie, Mertesacker believes Arsene Wenger's side are in good shape for their Premier League opener against Sunderland.
"I think we have a better situation than last year," he told the club's official website.
"The team is full of characters, good players and every position [has competition]. So I am looking forward to the season because I think we can show the potential we have in a better way than last year.