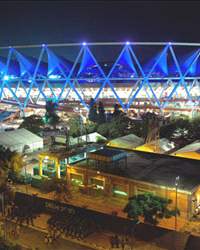 We are a nation of over 1.2 billion souls. To put that into perspective, we are 'only' 100 million behind China and four times the population of the United States. Everywhere, from the offices to the fields, there are thousands working at a time who want to see their nation really rise into prominence for the world to sit up and take notice. We've done it in so many fields. Nobel Laureates, Powerful MNCs, Cricket World Cups, India really is rising. But waylaid somewhere on this path has been the universal game, The Beautiful Game, football.
Out of 1.2 billion people, why does Wim Koevermans have so much difficulty in finding 22 men to play for the crest? Who do we point the finger at for this terrible condition of the sport here? Well, if we begin, be sure that it isn't something that will end very soon and there is a chance that we will get lost in the blame game. Instead, let's accuse inwardly instead of outwardly. Let's start with blaming ourselves for not being interested, for not wanting to watch, for not making enough noise to be heard. Because what we need to realize is one shout is not enough.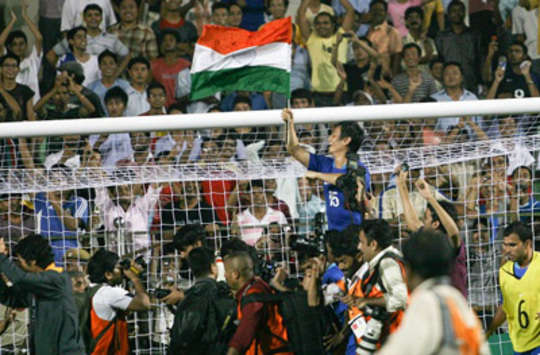 Let the world know it|
We're proud to be Indians, so let it show in our numbers
We need to rise up in one collective Blue whole and really let the world know that India has arrived. It seems shameful that it has to be the world noticing before the government does but if that is the way, then so be it. The Jawaharlal Nehru Stadium needs to feel what it means to be an Indian shouting for those 11 brave Tigers out there fighting it out for us and indeed, it is for us. We are the country. They are playing for their country and the least the country can do is give some back. If not the whole country, is 55000 too much to ask? Is it too much to ask the Nehru Stadium to be roaring for its eponymous cup?
We don't know how many know that we are recent and multiple winners of this little tournament, twice beating Syria in the finals to inject a little bit more pride into the country's football game. But this we don't ask you to know. We don't know how many know of Renedy Singh coming on in extra time and being a hero for nine minutes with his goal before Ali Diab heartbreakingly equalized in the last minute of stoppage time back in 2009. But we don't ask you to know. We don't know how many people know that we would not, not be denied that day and saw Subrata Paul guide us through penalties to win 4-5. But we don't ask you to know.
Heroes|
But no need to know about the squad of '09 to watch this year