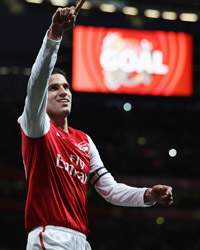 RED AND WHITE SECURITIES LIMITED
To: The Board of Directors of Arsenal Holdings Plc:
Peter Hill-Wood
Ivan Gazidis
Ken Friar
Sir Chips Keswick
Lord Harris of Peckham
Stanley Kroenke
With copy to:
David Miles
Mark Gonnella
5th July 2012
RE: Open letter to the Board of Directors of Arsenal Holdings PLC (the "Club")
Dear Sirs,
In recent weeks a couple of separate actions have occurred, which have caused us, as a near 30% shareholder in the club, to have serious concerns about the approach of the Board and the management team:
Firstly, there were some very deliberate and public comments by Ivan Gazidis which were intended to leave the club's supporters with an impression that Red & White is in some bitter stand-off with the board over its desire for a board seat and that our involvement on the club's board might cause conflict and "destabilise" the club; and
Secondly, OJSC MegaFon (Russia) received a cold call letter from Mr Gazidis requesting a meeting to discuss a possible international partnership deal including shirt sponsorship. MegaFon is one of the three largest mobile phone companies in Russia and also happens to be over 50% owned by Alisher Usmanov. Is this really the level of professionalism that is being applied to securing long-term commercial contracts?
Let us not forget that we have invested circa £200 million of cash in the equity of the club. We are part of this club and naturally want the best for it, but our investment is less important than the fact we are loyal supporters and will never do anything that would destabilise or "create conflict" at the club.
We do however believe that you, the board, and the executive management team should focus your energies on the most efficient operation of the club and desist from seeking to create a false enemy in Red & White. In our view it is clear that you are trying to distract attention from the more fundamental issues facing the club, and which indeed many of the supporters discuss through social media and other forums on a regular basis. These are the financial model, the lack of investment and the club's future strategic direction.
However, before addressing these points, it is important to deal with the issues surrounding a board seat for Red & White once and for all. As you all know well, Mr Usmanov has never sought himself a board seat at the club. Indeed Mr Usmanov does not hold any board seat in any of the companies where he is an investor. Since the purchase of our first share in the club, we have not only steadfastly adhered to a policy of non-interference in the running of the club, but have consistently supported the management and given no reason whatsoever to be accused of subversion or sabotage. The history of our voting in support of the board at the annual general meetings is proof of this.