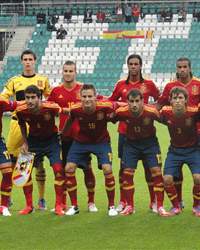 Spain Under-19 coach Julen Lopetegui has lauded his team after their European Championship final win over Greece on Sunday in Tallinn, Estonia.
An 80th minute goal from Jese Rodriguez was enough to give La Roja their ninth triumph in the competition, and the 45-year-old was quick to heap praise on his young charges.
"The players' mentality was spot on and they very much deserved their win," he told Uefa.com. "I prefer to concentrate on my team as a whole rather than pick out individuals for praise.
"That was a real final. We were facing a team that weren't just great, but who collectively had huge heart. Greece competed brilliantly, just as we expected they would.
"It was a very entertaining game for the spectators. There were many differences between this and the first game we played in the group [a 2-1 win for Spain]. It was a final so you know there are no second chances.
"We were playing on a great surface tonight and one that favoured the quick movement of the ball. We had more chances to score than they did and fortunately we took one of those, which gave us the win.
"I am proud that my daughter was here to see this. The great organisation of the tournament and the generosity of the people here [in Estonia] are some of the many things I will take with me."
Spain also won the 2011 edition of the competition, beating Czech Republic 3-2 in the final.