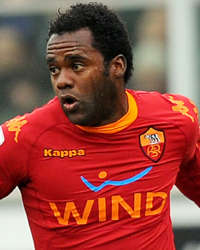 Cerezo Osaka
on Friday announced the arrival of
Roma
midfielder Simplicio on a free transfer after the Brazilian severed ties with the Italian club.
The 32-year-old made over 200 Serie A appearances since joining Parma in 2004. But his output has declined recently, resulting in more substitute appearances than starts and just four goals for Roma last season.
i Giallorossi
cancelled the last year of Simplicio's contract by mutual consent,
allowing him to make the move to Japan on a one and a half-year deal.
The Brazilian's arrival will come as relief for Cerezo, who are are hurting for quality midfielders after the departure of Hiroshi Kiyotake to Nurnberg and
South Korea international Kim Bo-Kyung for Cardiff City.
Additionally, the Osaka club are currently without Olympic call-ups Takihiro Ogihara and Hotaru Yamaguchi.
"I understand that the club is in a tough situation," Simplicio commented through a Cerezo press release, "And that's why I want to play my best and contribute to Cerezo as quickly as possible."
Cerezo are in 15th place, just two points above the drop zone. Following a two-week pause in league play for the J-League Special Match, they will resume their campaign on Saturday at defending champions Kashiwa Reysol.