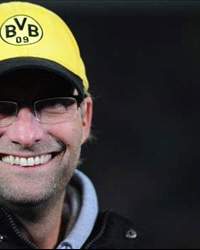 Jurgen Klopp has made it clear that
Borussia Dortmund
will not make any more signings this summer.
The German champions have already secured the services of players such as Marco Reus, Julian Schieber, Leonardo Bittencourt and Oliver Kirch, and they have no intention of adding more fresh blood to their squad.
"Have we got any other signings planned? No, as things stand we'll be going into the new season with the current squad," Klopp stated to
Uefa.com
.
The Dortmund coach then looked ahead to the upcoming Bundesliga season, and stressed that Bayern Munich are the favourites, while reiterating his side's ambitions of finishing in a Champions League place once more.
"Bayern have another great opportunity to finish top this season. There are a few other teams who stand a chance of winning it, such as ourselves, Schalke, Leverkusen or Stuttgart.
"We want to qualify for the Champions League again. It's as simple as that."
The titleholders host Werder Bremen on August 24 in their Bundesliga opener.
Who do you think should be Goal.com International's World Player of the Week this week? Leave your nomination in the comments section of THIS article between 10:00 every Sunday and 11:00CET every Monday. We will include some of the best suggestions in our winners piece.