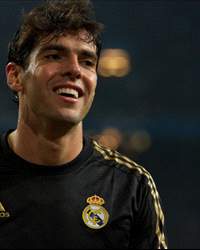 Real Madrid
captain Iker Casillas has called on his team-mates to pull together to help Kaka through a a difficult period of his career.
The Brazilian has been widely linked with a move back to AC Milan after two frustrating seasons in the Spanish capital, during which he has struggled with injuries and inconsistency.
And Casillas is adamant that every member of Jose Mourinho's side must take responsibility in order to make their team-mate feel more comfortable at the club.
"What we need to do is help him out," the 31-year-old announced at a press conference. "We need to help so he knows he's our companion, he's our teammate. He's a very important player and he's playing at his level.
"Maybe what he's going through is not comfortable. For us, he's our category of player. Whatever the boss or the club decide, he's a very important player for us.
"We hold him as a team-mate and a professional and as a positive for all of us. I'm wishing him the best.
"
Who do you think should be Goal.com International's World Player of the Week this week? Leave your nomination in the comments section of THIS article between 10:00 every Sunday and 11:00CET every Monday. We will include some of the best suggestions in our winners piece.