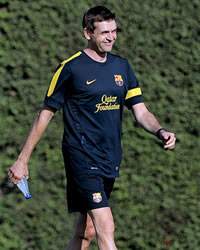 Tito Vilanova is confident
Barcelona
will reap the rewards of a tough pre-season schedule once the 2012-13 campaign gets into full swing.
The Catalan powerhouse locked horns with Paris Saint-Germain at the weekend, while they will face Premier League giants Manchester United next on Wednesday, and the coach believes his men will only benefit from being handed such early tests.
"I prefer a tough pre-season, so that we quickly get up to the level we need to be at," Vilanova stated at a press conference.
"What we wanted from the game against Paris Saint-Germain was that the players regained match fitness. I gave them time on the pitch according to how much time they had got in training.
"[Lionel] Messi played the whole game because he felt good. Our aim had been to give him as long as possible and he felt good and wanted to finish the game."
Who do you think should be Goal.com International's World Player of the Week this week? Leave your nomination in the comments section of THIS article between 10:00 every Sunday and 11:00CET every Monday. We will include some of the best suggestions in our winners piece.