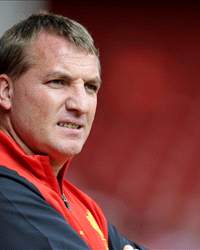 COMMENT
By James McManus
Of all the madcap opening-day results, Liverpool's resounding defeat at the Hawthorns was perhaps the most eye-catching, as the hope and optimism were quickly punctured by a rampant West Brom side.
While a dampener may have been put on the positive atmosphere that has surrounded the Anfield club recently, it merely reinforces the point that the job on Brendan Rodgers' hands is a long-term one that needs seeing through.
During the opening 45 minutes, Liverpool bossed proceedings but showed in the process that old habits do indeed die hard, with Luis Suarez at his profligate worst in front of goal as the side wasted a glut of gilt-edged chances.
For their part, West Brom were excellent and, Zoltan Gera's stunning strike aside, they were a completely different proposition in the second half, when they managed to add a degree of guile to their all-action style.
BROUGHT BACK TO EARTH


FROM OUR LIVE COMMENTARY

18'
WHAT A GOOOOAAAAL!! 1-0 West Brom and it's Zoltan Gera with an absolute screamer. The Baggies' corner was initially headed clear but the ball only went as far the midfielder, who took one touch with the chest to compose himself before volleying it into the top corner. Pepe Reina with no chance.
64'
SECOND PENALTY TO WEST BROM! It's Long who wins it again. After stealing the ball from Skrtel's feet, the striker goes down and the referee says penalty ... GOOAALL!! Odemwingie makes no mistake and finds the net. 2-0.
77'
GOOAAL!! 3-0 to West Brom - told you they weren't done! Lukaku has looked bright ever since coming on and he now has the ball in the back of the net. Liverpool failed to clear the corner, leaving Ridgewell free to dink a lovely cross from the left to the far post where the Belgian international was waiting to head home from close range.
It's tempting to focus on the negatives whenever a big club is involved in a heavy defeat, but credit is due to the hosts for an astounding performance, with both Youssuf Mulumbu and new signing Claudio Yacob superb in the middle of the park.