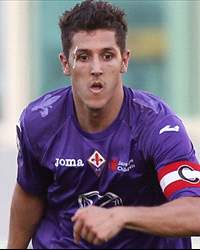 PROFILE
By Kris Voakes | Italian Football Writer
A first team player at 16, Serie A regular at 18 and Champions League superstar at 19, Stevan Jovetic didn't exactly hang around in making himself known to the footballing world, and he may well be about to make the next step to global notoriety with a move to Manchester City.
Many at Fiorentina didn't know what to make of the Montenegrin when he arrived from Partizan Belgrade in the summer of 2008. His big mop of curly hair was not befitting of an €8 million (£6.3m) signing who Viola fans had been told could propel their side to the next level after their fourth-place finish the previous season had taken them into the promised land of the Champions League.
For much of his early days at the Artemio Franchi, Jovetic was used as an alternative to Adrian Mutu behind the sharpshooting Alberto Gilardino, and the first-choice pair's combined 39 goals in 2008-09 saw him regularly forced to make an impact from the bench.
Indeed, it wasn't until April that Jovetic scored his first goal in the famous purple shirt, but less than six months later he would announce himself in the grand manner.
JOVETIC AT FIORENTINA


2008-09

SERIE A APPEARANCES/GOALS
COPPA ITALIA
CHAMPIONS LEAGUE
TOTAL
29/2
1/0
5/0
35/2


2009-10

SERIE A
COPPA ITALIA
CHAMPIONS LEAGUE
TOTAL

29/6
2/0
6/5
37/11


2010-11

SERIE A
COPPA ITALIA
TOTAL

0/0
0/0
0/0


2011-12

SERIE A
COPPA ITALIA
TOTAL

27/14
2/0
29/14

After finding himself used in a platoon with Mutu at the beginning of 2009-10, as coach Cesare Prandelli looked to make the best of Jovetic, the Montenegrin made Europe sit up and take notice by grabbing a magnificent double against Liverpool in a 2-0 Champions League win in Tuscany.